ENVIRONMENTAL RESPONSIBILITY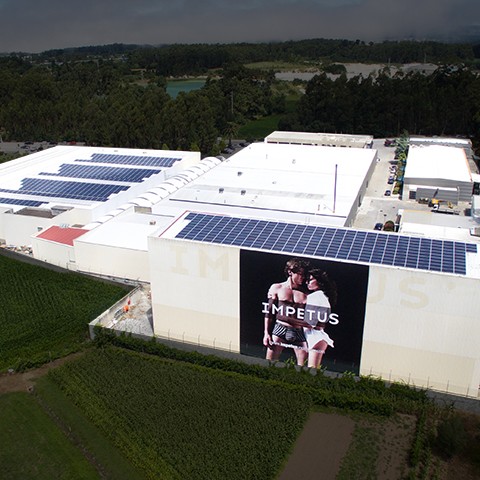 ENVIRONMENTAL RESPONSIBILITY
All our production processes are specifically designed and executed in such a way as to reduce our environmental footprint and energy consumption. All our production facilities have built-in water treatment systems, control their gaseous emissions and use biomass to produce hot water. The criteria in our annual investment plan focus on the most efficient machinery and the most environmentally friendly processes. We have installed photovoltaic panels across most of our industrial acreage.
We recently switched 80% of our fleet to electric and plug-in hybrid cars that run on energy produced by our solar panels. Our commitment is certified by the international Bluesign system.
FASHION, SUSTAINABILITY AND RESPECT FOR THE TERRITORY
At IMPETUS we define our strategy and guide our conduct in a comprehensive context of sustainability, which is reflected in the way we create and produce our products and how we manage the waste generated.
Fashion, creativity and communication, but at the service of the community and the sustainability of the planet: the IMPETUS values philosophy.
For IMPETUS to be brand means commitment. Commitment to the vanguard to respond to the requirement of new functionalities in the products. Commitment to environmental sustainability, transversal in all activities of the Group, especially evident in the industrial bet by the last generation of eco-sustainable fibers and in the ecological approach of traditional materials such as organic cotton, whose processes are environmentally and socially certified.


Product (s) added to cart