Our Dyeing Shop is equipped with 38 machines that carry loads of 5 to 1,000 kg for an annual production of 4,900,000 kg of dyed fabric.
We dye a wide variety of raw materials - cotton, linen, wool, silk, viscose, modal, lyocell, acetate, triacetate, polyamide, polyester, polypropylene, acrylics, among others.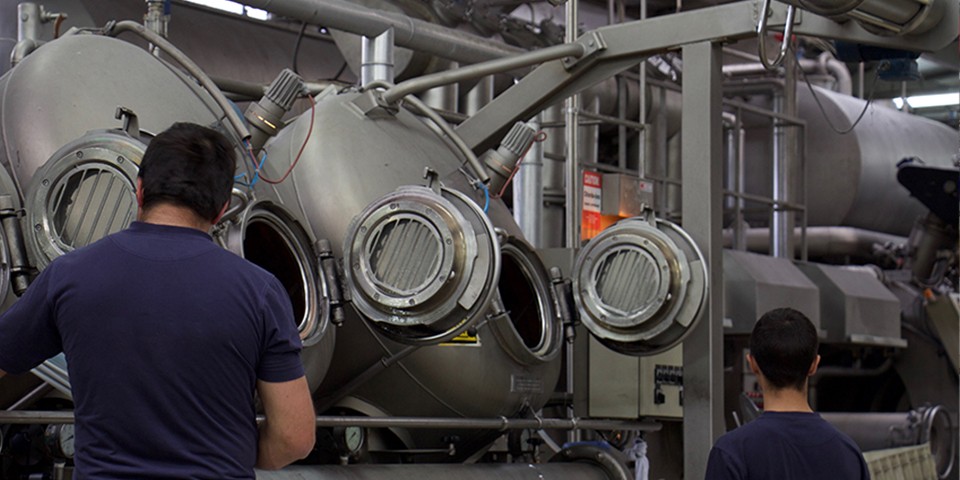 Our dyeing to the piece is equipped with 12 cutting-edge machines capable of dying a wide variety of raw materials. As flexibility is one of our main concerns this section has been equipped with machines that can handle loads between 5 and 100 kg giving an annual production capacity of 270,000 kg.
We have a laboratory, where it is tested and stabilized the entire process on a small scale, and then applied on an industrial scale. This laboratory also allows the development of new colors, new products and new processes in a sustainable perspective as a whole.
Equipped with the latest generation of digital printing machines, this department has an annual capacity of 1,500,000 metres. We can print disperse or reactive knitted and woven fabrics directly on the substrate, whilst assuring excellent resolution and high quality and reliability.


This department is equipped with 3 rotary machines with annual capacity of 6,100,000 meters. These can print on all types of raw materials using conventional printing techniques, including reactive, discharge, pigment, dispersed, acid, burnout or devour, glitter or wet effect.
Combining in a harmonious way the chemical part with the mechanical part, in the area of Finishes we guarantee the high performance of our fabrics, aesthetics, comfort and functionality. In response to the constant changes in this sector of production, as a result of new trends, it performs all kinds of functional finishes: hydrophilic, hydrophobic, temperature regulators (PCM), "COOL TOUCH", healthy finishes like "ALOE VERA", relaxing moisturizers, antimicrobial, anti-mosquito, anti-UV, fragrances, etc.

Product (s) added to cart